Porcini Miso Soup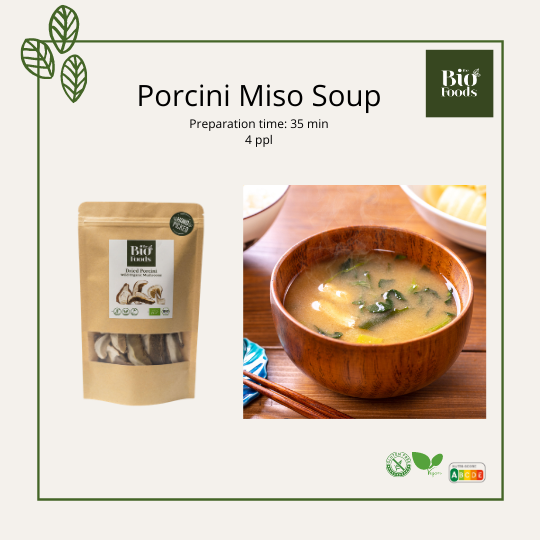 Ingredients:
3.5 tbsp white miso paste 
1 tbsp fresh ginger (grated)
2-3 tbsp Soya Sauce (Optional) 
1/3 cup fresh chives or scallions -chopped
1 tsp red pepper flakes or fresh chili pepper to taste
Cover dried porcini with the hot water (20 min). Strain into a saucepan. Bring the mushroom broth to a gentle simmer and stir in the mushrooms, garlic and ginger. Remove from heat. In a separate bowl whisk together the miso paste with a ladle of the hot broth. Once incorporated add it to the pot with the soup together with soya sauce. 
Meanwhile cook the noodles in a separate pot until al dente (5 minutes).
Divide the noodles between 4 bowls and top each with some of the baby spinach. Ladle the porcini soup on top and garnish with the chives and chili pepper to taste.