Saving energy when cooking!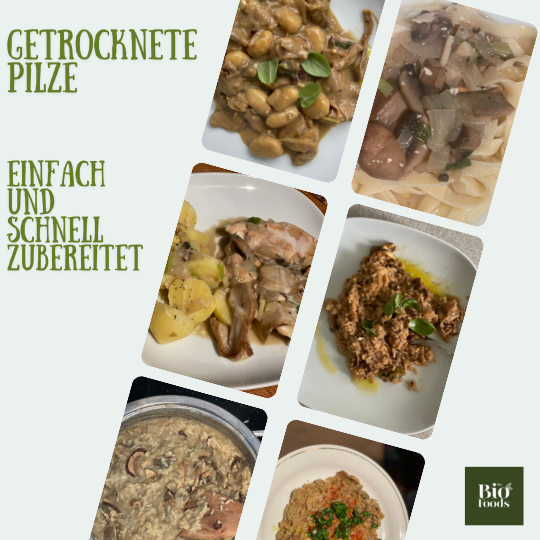 Getrocknete Pilze -> Einfach und schnell zubereitet
General tips for Cooking and baking:

Put a lid on pots and pans.

Use a kettle to boil water as it will be faster.

Reduce temperature after water for vegetables, 

pasta, potatoes or rice has boiled. Prepare bigger portions and keep it in the fridge.

Use thermal carafes for tea or coffee.

Avoid using the oven.

This autumn harvest mushrooms have just arrived. Cleaned, hand-picked, hand-packed. Premium quality, certified organic, healthy, full of proteins and vitamins. Healthy and easy to cook.

We offer 5 different types of wild mushrooms and the mix. The mushrooms pair exceptionally well with rice, pasta, potatoes, ghnocchi, vegetables or meat. They can be ready in 3 minutes.

Put mushrooms in a bowl and rinse. Then add warm tap water to the bowl and cover the mushrooms. Let them stay for 30-45 minutes. It can be even longer if you have time. Once they are well hydrated they do not need much time to be cooked. Fry them 2-3 minutes with onions / garlic / spring onions (altogether with water) and serve warm. You can combine them with rice from the fridge for example, just serve them over the rice and you will have warm meal in second.

You can change mushrooms and make different combinations with vegetables / spaghetti, etc. Also, they are a perfect for for any kind of soup / broth. Just put them directly in the boiling water and they are ready.

Save your time - you do not need to cut them, you do not need to peel them, you do not need to loose your time, energy, money to cook them. Be efficient and eat healthy food.

Try adding a bit of our spices, for example, my favourite combination is thyme and porcini. And you do not need sauce for those disheses. Sprinkle a bit of Pamako Olive Oil on the top, I promise you did not eat anything better and healthier. Be ready for the upcoming winter and surprise your loved ones with authentic and valuable gifts. 
Check out our

BUNDLES

- there are three different options and amazing deals!

Create your own bundle and send an email to get the special price!

Buy any 2 teas and get 50g of mixed mushrooms for free. Code: MIXTEA

Buy any

3 teas

and get 20% discount for Pamako Blend Olive Oil -> Code: BLENDTEA