Delicious Dried Mixed Mushrooms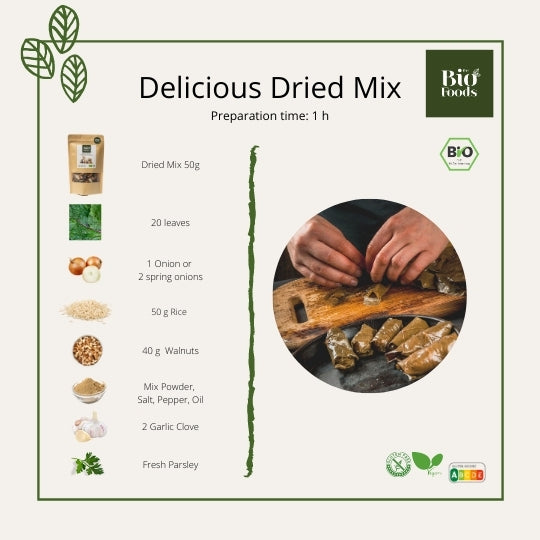 Hydrate Dried Mixed Mushrooms around 15-20 minutes (in hot water).
Heat 2-3 spoons of Olive Oil in a frying pan / Wok Pan over medium heat.
When the oil shimmers, add onions, and rice. Season with salt and pepper.
After 4/5 minutes add Dried Mixed Mushrooms together with the liquid + add 1dl of water.
Mix all ingredients well and cook (stirring occasionally) for 15 minutes.
Once it is ready mix it in the separate bowl with walnuts, parsley season with salt, pepper and mixed mushrooms powder.
Preheat the Oven (180⁰).
Put approximately one spoon of the mixed ingredients in a grape leave (depends on the size) and roll it.
Put in oven ceramic plate and bake for 20 minutes.
Serve it with lemon juice or tomato sauce. Optionally it can be served as finger food.
Bon Appetit!
P.S. for 3/4 ppl
Instead of grape leaves, you can make Stuffed Peppers.