Lovely Brekkie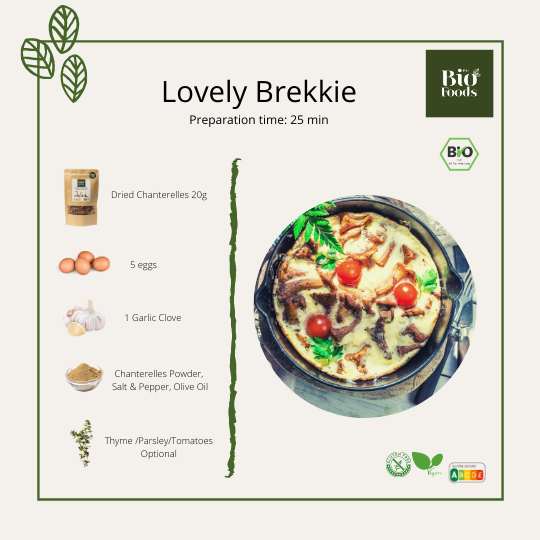 Hydrate dried Chanterelle mushrooms around 15-20 minutes (in water/oat milk/soy milk).
In a separate bowl, mix the eggs with (thyme/parsley) and season with salt and pepper.
When mushrooms are hydrated, heat 2-3 spoons of Extra-Virgin Olive oil in a frying pan over medium heat.
When the oil shimmers, add the Chanterelles (together with the liquid), season with salt pepper and Chanterelle Powder. Cook (stirring occasionally) for 2 minutes.
Add the chopped garlic and stir for another 3 minutes. Transfer it to a bowl.
In the same pan heat 3 spoons of Olive Oil over the medium heat. Pour the egg mixture into the pan and swirl it around the pan with a wooden spoon.
Once the eggs are ready add the Chanterelles from the bowl + thyme/parsley/cherry tomatoes (optional).
Bon Appetit!