Autumn's Bounty: Discover Our New Porcini Soup Recipe!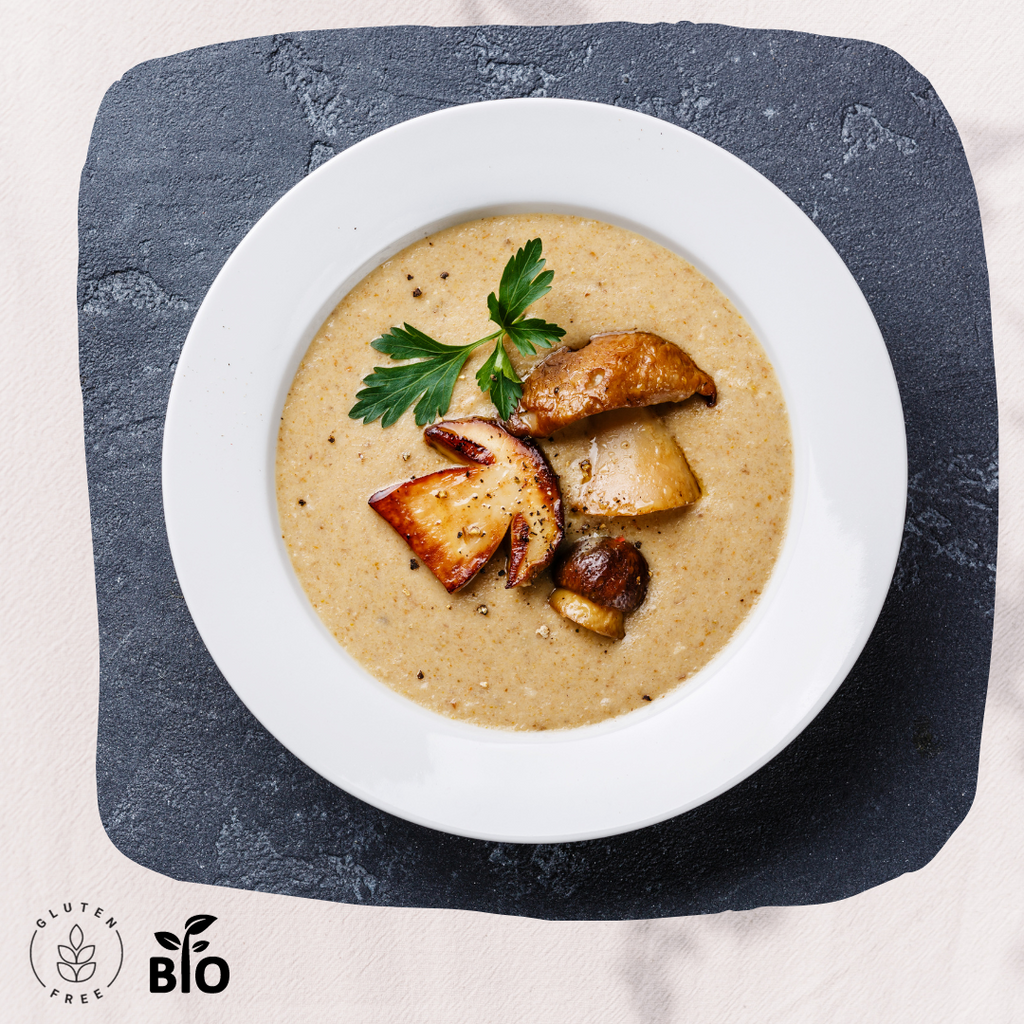 At The Bio Foods, we believe fall is the time to enjoy the earthy flavors and heartwarming scents of seasonal ingredients. That's why we're excited to share our latest culinary masterpiece with you - a delicious recipe for mushroom soup with porcini mushrooms that captures autumn in its essence.

Not only is our mushroom soup a tasty treat for your taste buds, it is also a breeze to prepare, making it perfect for those who are just starting their culinary journey.

In this edition of our newsletter, we'll walk you through the steps to make this hearty and healthy soup that highlights the rich, nutty flavor of porcini mushrooms. Whether you're planning a cozy family dinner, gathering with friends, or just want to try something new, our mushroom soup is guaranteed to become a seasonal favorite.

So, grab your apron, a pot, and your favorite ladle and whip up a soup that will leave you wanting more.

Ingredients for 4 servings:

Preparation:

Place the dried porcini mushrooms in a heatproof bowl and pour boiling hot water over them. Let it soak for 15 minutes. Meanwhile, cut the onion into cubes. Peel and wash the potatoes and carrots and cut them into cubes. Sauté the pieces together with the prepared onion cubes in a little hot oil in a pot.

Then separate the porcini mushrooms from the stock and collect it. Wash the mushrooms briefly under running water and add two thirds of them to the pot. Set the remaining mushrooms aside. Sauté the mixture of potatoes, carrots, onions and mushrooms again.

Deglaze the soup base with the vegetable broth and mushroom stock. Bring to the boil and simmer at a lower temperature for 15 minutes. Meanwhile, fry the remaining third of the porcini mushrooms in a pan with a little heated oil and season.

Season with salt, porcini powder and pepper. Cut the fried porcini mushrooms into small pieces and sprinkle into the soup. Cook them briefly over low heat and chop the parsley in the meantime.